In 1902 a group of interested local citizens banded together to form The Fair Oaks Cemetery Association. The group purchased two and a half acres at Olive and New York Avenues for $250.00 for a community burial ground. The Cemetery Association was incorporated November 3, 1903.
In 1926, a large majority of citizens petitioned the county for a taxing district. Thus the Fair Oaks Cemetery District was formed August 28, 1926 as a Public Cemetery, by resolution of the Sacramento County Board of Supervisors.
Two of the earliest burials at the Fair Oaks Cemetery are Lillian Maude Shelton and Nellie Williams, who both died in 1898. The first "official" burial was that of Mrs. Sarah Vail in 1903.
Of the many veterans buried in the Fair Oaks Cemetery, there are about a dozen who saw service in the Civil War.
---
Featured History
Click to enlarge image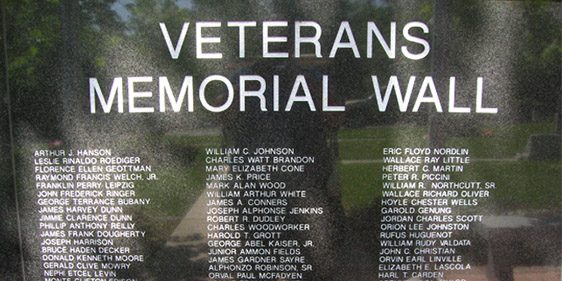 Our Veteran's Memorial Wall is located in the newer section of Fair Oaks Cemetery. Each year, prior to Memorial Day, the cemetery adds the names of all our new Veteran's that now reside in the cemetery. For a location of a name, just come into the office and we would be happy to help you locate your loved one.
---
Photo Gallery
Click to enlarge images